Your guide to protecting your rental property in Boulder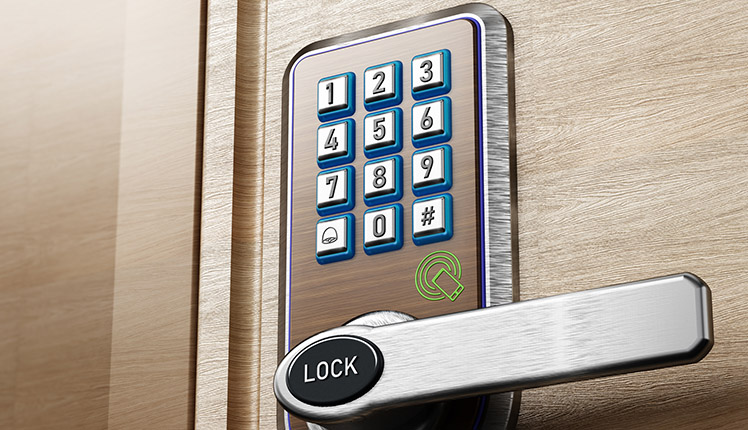 Whether you rent out your family's cottage or have an assortment of Airbnbs, it can be a challenge to protect your rental properties in Boulder. If you have a steady influx of renters, it's simple to miss a key in the handover or find yourself no longer in possession of costly electronics or other valuables. And what should you do when there's a flood or fire at the property while it's being leased?
From enhanced locks to fully automated security systems, here are some top recommendations on how to protect your Airbnb in Boulder.
Say goodbye to traditional keys by switching to smart door locks
When a visitor moves on, they could leave the keys behind for the ensuing occupant. However, if they grabbed or made a copy of a key, it would be possible to re-enter later. Certainly, you could switch out your locks when a key goes missing, but that is not a timely or cost-effective solution.
Fortunately, you are now able to put in smart locks that function along with your home security system to counter these concerns. Then, you can give every guest their own unique entry code. When they leave, there's no reason to mess with a key dropoff. All you need to do is set the codes to deactivate when they exit. If past lodgers reappear and make an attempt to enter with their prior entry code on the keypad, you will receive a notification on your mobile device.
Home automation makes available rentals look occupied
It's nice to think that your Boulder rental property will be occupied, but that won't always be the case. Nevertheless, you should strive to make it appear that someone is home so your Airbnb isn't an easy mark for prowlers. Installing a security system that includes home automation affords you the opportunity to benefit from smart lighting, motion detection devices, and video cameras that make your home look inhabited.
You can put your plan in motion by programming your smart lighting to switch on at particular times of the evening. You will also want your cell phone app to warn you if your exterior cameras spot an intruder lurking in the shadows or coming to your main entrance. You have the opportunity to take advantage of the talk capability so they know you're watching or arrange for your lights to automatically come on when a surveillance device or motion sensor discerns something unusual.
Protect your Boulder Airbnb with 24/7 monitoring
Your tenants can sleep easy if they are safeguarded from criminals, especially when Boulder is unfamiliar territory. When a thief tries to invade your property, your home security system will not only initiate the alarm siren but will also ping your 24/7 monitoring professionals. Regardless of your location, assistance will be dispatched. Your monitoring agents can even act as your authorized go-between and loop you in whenever you're available.
Along with break-ins, your monitoring center can be linked to fire alarms, flood sensors, and carbon monoxide sensors. It would be understandably harrowing for your renter if a water heater springs a leak or a fire breaks out. You will then get a cell phone notification that a potentially dangerous event has occurred, but the monitoring agent is also able to authorize help from emergency personnel while you're in transit.
Order your new home security system in Boulder
Protect your rental in Boulder when you get the latest in home protection. Thankfully, Vivint has great features like smart lights, smart locks, and 24/7 monitoring. Reach out today and our home security experts will design a system that's ideal for your rental. Phone (720) 807-9203 or complete the form to begin!
Communities Served Around Boulder By Smart Security Specialists Your Local Vivint Authorized Dealer